Product Details
Coal based activated carbon is divided into fixed and unfixed particles. Anthracite coal as the raw material of coal based activated carbon is made through a series of production processes from fine processing. Coal based activated carbon selected high-quality anthracite as raw material, using advanced technology refining and processing to get the black amorphous particles with developed pore structure, good adsorption performance, high mechanical strength. It's easy to be repeated regeneration with low-cost characteristics, etc.
Index of coals granular activated carbon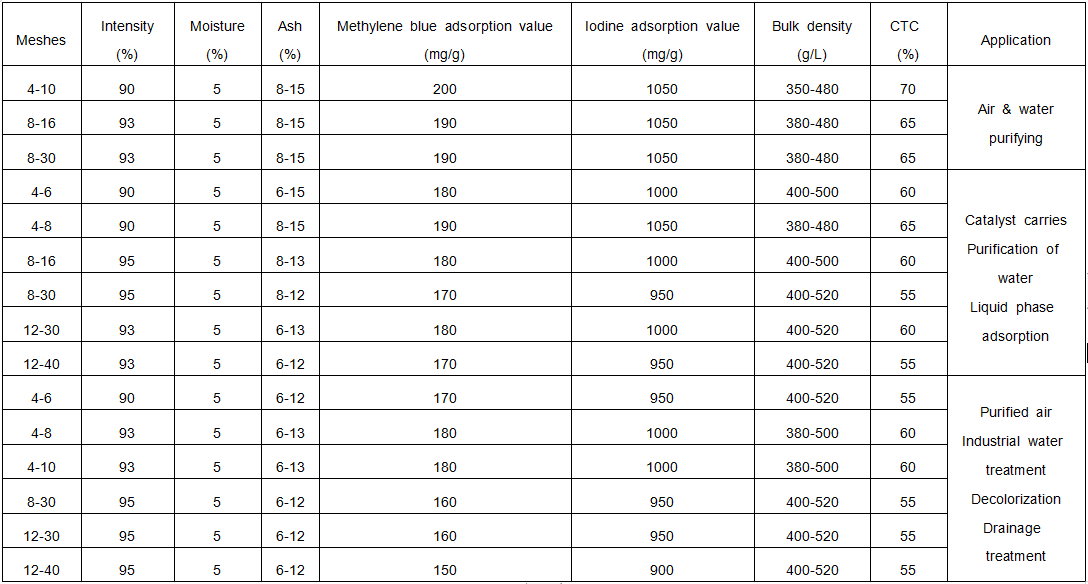 Applications
1.

Granular activated carbon
for drinking water purification sewage treatment industrial wastewater treatment. It can be used as sewage treatment and made UDF for water purifers to purifying tap water.
2.
Granular activated carbon
for purification of domestic sewage and chemical sewage;
3.
Granular activated carbon
as efficient adsorbent for clean energy.
4.
Granular activated carbon is
used for liquid-phase adsorption: drinking water purification industrial wastewater treatment brewing decolorization deodorization desiccant solvent recovery and other fields.
5.
Granular activated carbon
is used as catalyst and catalyst carrier.
6.
Granular activated carbon for
gas purification decaffeination gold purification me
tal extraction water purification sewage treatment air filters in the gas masks and respirator filters in compressed air and many other applications.
7.
Granular activated carbon for gold extraction. Comparing with coconut activated carbon
coals granular activated carbon is a substitute choice
for gold extraction. To learn more from www.baiyuncarbon.com/NEWS/61.html
Inquiry
Please Feel free to give your inquiry in the form below. We will reply you in 24 hours.